Tuesday, June 26, 2007
http://www.zshare.net/audio/24468557f6e185/
JB..Your favorite rappers favorite rapper!
www.jbzworld.com
www.myspace.com/jbzworld
Posted by

Crunkzilla
at 3:46 PM
1 comment:

Tuesday, June 12, 2007
DukeDaGod Presents
Dipset: More Then Music Vol.2
(Koch/Shock Records)
3 Stars
Dipset brought a lot of swagger back to the New York HipHop scene when they first surfaced. Several years down the track things are sounding tired and formulaic.
Don't get me wrong, More Then Music Vol.2 has some amazing 'Power Rock' style instrumentals on it, but I can only listen to rap about hustlin crack and rolling dice so many times.
To be fair when Jimmy, Juelz and Cam rap on street knowledge it's acceptable, those cats got style and they all know how to tell a good story. Regardless newer recruits 40Cal, J.R Writer and Hell Rell just don't flip it the same. Sure, they have probably done their time peddling product on the turf, but the feeling just isn't there.
More Then Music Vol.2 is best summed up by Cam'ron's contribution to the album 'Suga Duga', a personal ode to living life comfortably off past achievements.
Martyn Pepperell
Posted by

Crunkzilla
at 3:17 PM
No comments:

UNK
Beat Yo Block Down
(Koch/Shock Records)
3 Stars
Unk makes Crunk and Crunk sure isn't home listening music, it's music for riding cars and stripclubs. Unk would probably disagree with the first half of this statement and say his music is more then just Crunk or Snap Music. But most artists have a certain pretense or preciousness about their art form, and I don't eat deep fried chicken wings, so what the hell do I know?
Unk sprung up this year in the US with a song called "Walk it out" which is basically a hot dance number, Crunk is more or less about dancing, cutting loose and having fun. Thats why the music and lyrics are so simple and repetitive. A lot of people miss these points, but for fans of Little John and Dem Franchise Boys this could be a great cd to bang in your ride while heading to the club.
Chicken wings not included!
Martyn Pepperell
Posted by

Crunkzilla
at 3:10 PM
No comments:

Soul Jazz Records Presents:
Box of Dub: Dubstep & Future Dub
(Southbound Distribution)
Dubstep is something that is only just starting to make sense to me. I've always appreciated it's half-time jungle aesthetic and it's constant use of reggae/ragga samples and motiff's, but a small part of me has remained unconvinced. This was partially chipped away by seeing Mala from Digital Mystiks perform a DJ several months ago and even more chipped away by the sheer quality of this album.
Soul Jazz Records have always been on top of their reggae/dub game, so to see them embrace jungle and dubstep in recent months has been a beautiful thing. "Box of Dub" is a collection of reggae/dub styled dubstep tunes from prominent scene leaders such as Digital Mystiks, Kode9, Burial, Skream and more.
What really struck me about this cd (something you've probably already worked out) was the heavy heavy layering of dub/reggae elements, finally I felt like I was listening to a selection of dubstep cuts that truly represented a logical progression and evolution of UK dub. Unfortunately this gives rise to the question 'Is dubstep really a new sound, or is it merely a re branding of previous styles?'
Either way with brilliant cuts like 'I Wait' on board, fans of bass heavy dubby music won't really be complaining. I could see 'Box of Dub' as being a suitable release for home listening or dancefloor rocking satisfaction! Check it out!
Martyn Pepperell
Posted by

Crunkzilla
at 3:03 PM
1 comment:

Tuesday, May 15, 2007
Bongo has and alway will be heat!
The legacy of UK ragga continues with his hot new cut "REAL MUSICIAN"
Check it out!
http://www.zshare.net/audio/01_real_musician-mp3.html
www.bongochilli.com
www.myspace.com/peppaman
Posted by

Crunkzilla
at 4:33 PM
No comments: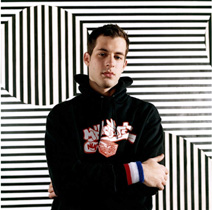 Mark Ronson
Version
(Sony BMG)
3 Stars
Mark Ronson is a english party dj turned producer/entrepreneur based in New York City.
Much is made of Ronson's credentials and connections in his press release, but my knowledge of him is limited which leads me to believe he is more of a regional sensation then anything else.
Version is his second album and sees him remaking some big contemporary pop material by artists such as Coldplay, Radiohead, Britney Spears, The Smith and more, in a Mowtown/Stax 70's era style and roping in guest vocalists like Amy Winehouse, Lily Allen, Robbie Williams and Old Dirty Bastard(RIP). Version does possess a certain something, an almost x-factor. But is dragged down by the overkill factor of so many guest artists and remakes of classic songs. Regardless I must applaud the Mark Ronson for making the effort to showcase remake/refix culture on such an epic scale.
Martyn Pepperell
Posted by

Crunkzilla
at 4:30 PM
No comments:

J
James Brown

Dynamite X

(Couch Records/Universal Australia/Border Distribution)

3.5 Stars
James Brown was a pioneer of funk music and by a different stroke of the same brush the grandfather of hip-hop and breakbeat influenced dance music. From this point of view Dynamite X makes perfect sense. Take a select handful of international producers, dj's and musicians and let them loose with the layers to his many classic cuts.
The result is a mixed bag, but in this case it relates more to the perspective of the listener.
Dynamite X is a brilliant album for club dj's and dance music fans. For the home listener or closed minded funk purist it may all be a bit too much. Remix artists include Fantasista, Cornelius, Cay Taylan, Listen to Munro and more. Songs tackled include 'Funky Drummer', 'Call Me Superbad' and 'Sex Machine'. The 'Sex Machine' remix is a particular standout with it's funkier then funk punchy breakbeat loops. So damn fresh!
Martyn Pepperell
Posted by

Crunkzilla
at 4:26 PM
No comments: